Things we are monitoring
The Innu Nation Environment Office monitors woodland caribou to inform community hunts as well as wildlife and land management approaches, runs a Fisheries Guardian program to monitor commercial and community fisheries, monitors compliance and impact of mines and hydro-electric projects, and consults extensively with the community to link country-based knowledge with scientific knowledge.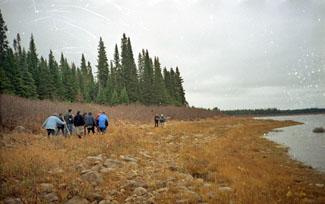 About our program
The Innu Nation represents the Innu of Labrador. The Environment Office of the Innu Nation oversees wildlife, fisheries, forestry and industrial development. Land technicians support land referrals, land planning and development evaluations including archaeological assessments, ecosystem and habitat assessments, and wildlife monitoring.
Contact us
Innu Nation
Sheshatshiu office:
P.O. Box 119
Sheshatsiu, Labrador, NL
A0P 1M0
Natuashish office:
P.O. Box 186
Natuashish, Labrador, NL
A0P 1A0
Guy Playfair, Forest Manager
[email protected]
17094788755