Are you involved with an Indigenous Guardian program in Canada? Or do you want to start a new program and are looking for tools to help you get started? Or do you just want to learn more about Indigenous Guardians and their ongoing work to steward their lands and waters?  
 
You've come to the right place! Find out how to use the toolkit here. 
 
The Indigenous Guardians Toolkit is a place to: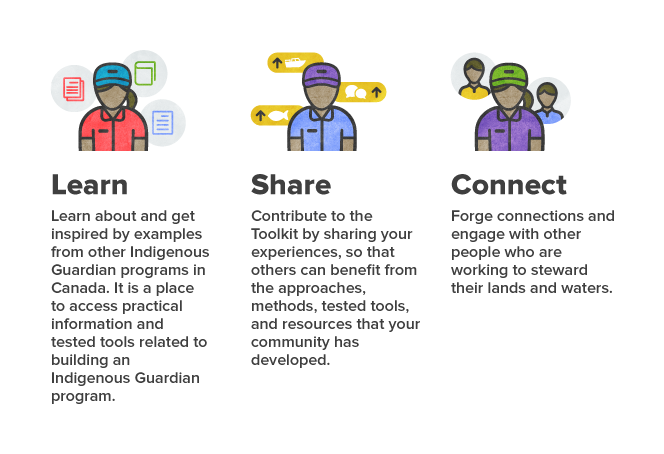 The Toolkit was sparked by Indigenous Guardians who were looking for easy-to-access information about building and implementing Guardian programs and wanted to learn from the experience of others. Recognizing that every Indigenous Guardian program is unique, the information you will find throughout the Toolkit is intended to be used, modified, copied, printed, downloaded, shared and added to. 
The term "Indigenous Guardian" is a catchall phrase we use in the Toolkit.  This term does not resonate with everyone.  Indigenous communities across Canada have different names for the people who are the "eyes and ears" of their lands and waters (e.g. guardians, watchers, watchmen, monitors, rangers, observers, etc.).  Whatever the name, and however the work is organized and delivered, the Toolkit is designed to support the "doing" of this type of hands-on Indigenous stewardship work.
For a two-page overview of the Toolkit that can be shared with others download "Indigenous Guardians Toolkit Brochure".
Explore this chapter to find out: