How is the Toolkit organized? 
The Toolkit is organized into 16 sections. Each section addresses a core topic that many Indigenous Guardian programs focus on: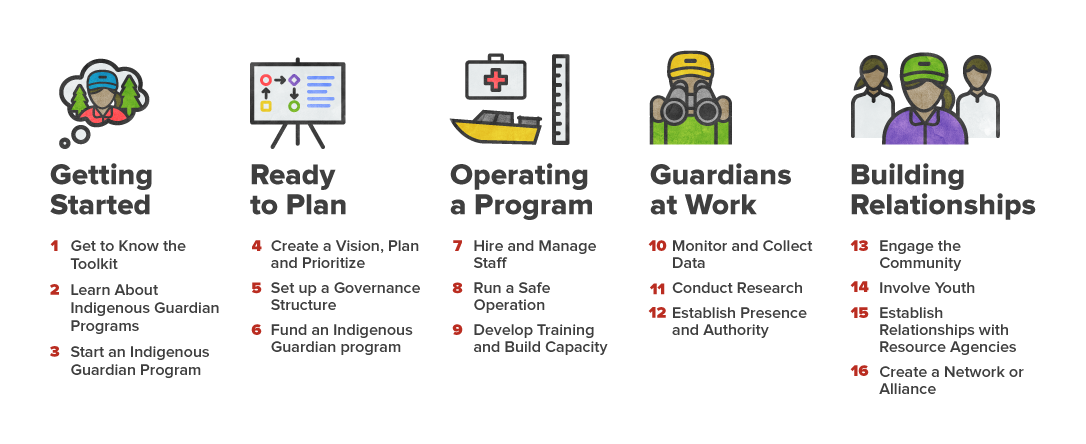 Throughout the Toolkit, you will find: 

Tips that provide insights and ideas from practitioners building and running Indigenous Guardian programs.

Worksheets with key questions designed to prompt your thinking, kick-start your planning, or facilitate a discussion. In some sections, you will   find topic-specific worksheets to help you work through the details. Download these worksheets, fill them out, bring them to meeting—whatever is most useful to you.

Templates that you can download and modify for your own use running your program.

Infosheets that provide more detailed information on a topic that might be of interest to you. 

Stories of Indigenous Guardian programs in action. These stories provide a snapshot of what is happening in different communities. Be inspired and share your stories too! 

Community Resources including policies, plans, vision statements, guidelines, manuals, job descriptions, operations manuals, funding proposals, monitoring frameworks, etc., shared by Indigenous Guardian programs across Canada. Add your own resources to these!   

Links to websites or online resources of interest. 
All of the information and resources found in the Toolkit can be used as is or adapted to suit your needs. You can also download sections or the entire Toolkit, to learn more about what you can do see our overview on how to use the Toolkit.