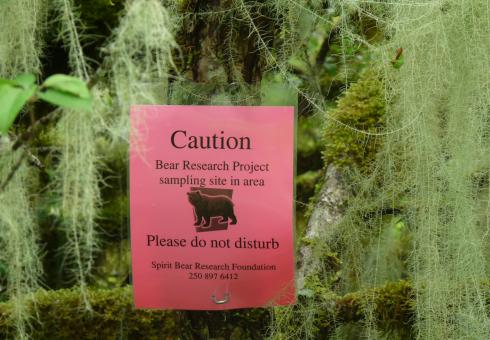 Members of the Kitasoo/Xai'Xais First Nation have been actively observing bears on their territory for millennia. Bears have a deeply rooted cultural significance to the community. Community members have been observing changes in how the bears are using the territory. These population dynamics are of utmost importance to the community for cultural reasons and because the Nation owns and operates a thriving eco-tourism business providing a world-class wildlife viewing experience for visitors to the territory. Knowing what areas bears are using is very important.
The Nation established the Spirit Bear Research Foundation in 2011 when they became increasingly frustrated with how the provincial government has been managing bears on the coast. The Foundation collaborates with scientists from the University of Victoria and other institutions and conducts scientific research that answers the community's questions. The research also integrates traditional and local ecological knowledge.
Using an integrated approach to stewarding their lands and waters, Kitasoo Watchmen monitor bear populations while out on patrol and ensure users comply with a bear trophy-hunting ban. At the same time, research field crews conduct locally relevant, ecosystem-based research. This work builds capacity, supports local employment, and provides community leaders and stewardship managers with the best available information to guide decisions.
The Foundation engages the community in the research every step of the way, actively sharing knowledge with the community through school field trips, presentations, and community feasts. The Kitasoo/Xai'xais First Nation amplifies their efforts by working with neighbouring Nations to coordinate monitoring efforts, share research results, and advocate for changes to provincial policies.
The Spirit Bear Research Foundation is funded through grants from the Spirit Bear Lodge, research partnerships, individual/private donors, and charitable partners. Check out their website and Facebook page.