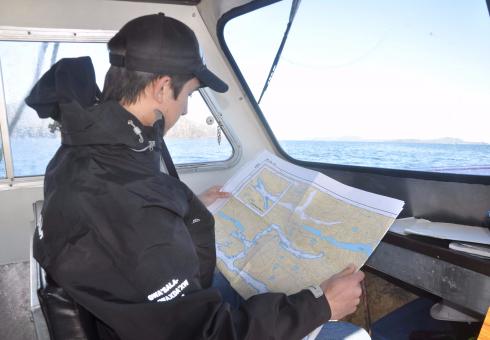 Confidence, trust, local knowledge and experience are key to being safe on coastal waters. When the Gwa'sala-'Nakwaxda'xw Nations (GNN) started their Guardian Watchman program they had one boat that was used for patrols and a water taxi service. In their first year on the water, they racked up close to $50,000 worth of damages and repairs. Realizing that many of these costs were avoidable, they hired a local marine operations instructor to develop a custom, competency-based marine training program.
Thanks to their custom course, GNN Guardian Watchmen now learn safe vessel handling, maintenance, emergency response procedures, and pollution prevention in addition to obtaining the provincially-mandated Small Vessel Operator Proficiency certificate. Perhaps most importantly, crew members learn how to demonstrate competency under a variety of weather and sea conditions and with different vessels. They also develop local experience on how to operate their boats in areas on their territory that pose special risks or dangers.
The cost of the training was roughly a fifth of the cost of damages and repairs from their first year of operations. Now, all crew members are trained and certified by the instructor to operate the GNN boats. Following the training, the cost for damages and repairs has dropped to $10,000 with two boats in operation.
The competency training also ensures that boat operators meet necessary requirements for insurance when the vessels are operating in designated areas. Overall, boat competency training has been a solid investment in safety and cost savings.