Community
Ahousaht Stewardship Guardian Program - Maaqutusiis Hahoulthee Stewardship Society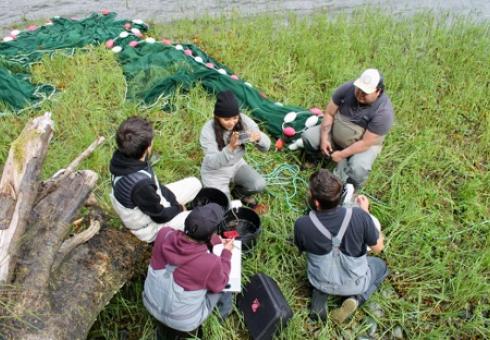 Things we are monitoring
Maaqutusiis Hahoulthee Stewardship Society (MHSS) is conducting on-going monitoring and restoration activities throughout our territory. These activities include:
Restoring and enhancing salmon habitat in various river, creeks, and estuaries.

Conducting sea-lice sampling to monitor impacts to wild salmon.

Monitoring water quality in both fresh and marine ecosystems

Patrolling territory to address any illegal activities and collecting stewardship fees from user groups using the territory for recreational activities. 

Working on coastal clean ups along remote beaches, to minimize ocean debris and micro-plastics.

Conducting micro-trolling sampling of juvenile chinook salmon to understand salmon marine health and gain insight in the migration of stocks and stock origin throughout Ahousaht Territory.
About our program
The Stewardship Guardian Program aims to follow the fundamental guiding principles of Ahousaht:
Iisʔaḱstaƛ (respecting one another),

Haaḥuupstaƛ (teaching one another),

Ya?akstaƛ (caring for one another);

Huupiił'aƛ (helping one another)
The program aims to combine both western science and Ahousaht traditional knowledge to help in the preservation and protection of Ahousaht resources and culture for generations to come.
Contact us
Maaqutusiis Hahoulthee Stewardship Society
Danny O'Farrell
[email protected]
C:250-534-9407
O:250-725-2169
Mailing address
Unit 9 - 368 Main Street
PO Box 1245
Tofino BC V0R 2Z0
Canada