Story
Inuit Marine Monitors Track Shipping Traffic in Real-Time
"There has been a 63% increase in shipping and tourism vessel voyages in Nunavut waters since 2007. All because the ice flows have decreased due to climate change. Our communities have many concerns: How does this traffic stress wildlife being in such close proximity to these vessels? How will this affect our traditional practices?"
Daniel Taukie, Marine Monitoring Program Coordinator, Nunavut Tunngavik Inc.
There is no doubt that climate change is causing sea ice concentrations in the north to rapidly decrease in summer months. For Nunavut communities this has brought a dramatic increase in shipping vessels that interfere with their community well-being, in particular, their ability to hunt and conduct their traditional practices. There are also concerns about the increased potential for accidents, pollution and oil spills in Nunavut waters. Proper mitigation strategies will make sure that marine mammals, wildlife, and environment have a sustainable future.
"We Inuit have to gain power and opportunities to help our people gain access to these jobs in the future. Training and supporting communities is the first step but the health of our environment and understanding the cumulative effects of shipping and vessel activities will be crucial for mitigation towards the future", adds Daniel.
An innovative marine monitoring pilot program undertaken by Nunavut Tunngavik Inc. (NTI) and the Regional Inuit Associations is using Inuit marine monitors and real-time vessel tracking technology to fill in the many data gaps that aren't being collected by Transport Canada and the Canadian Coast Guard.
In 1993, the Nunavut Agreement was signed and included the following principles: "Canada's sovereignty over the waters of the Arctic Archipelago is supported by Inuit use and occupancy" and, "Canada recognizes the contributions of Inuit to Canada's history, identity and sovereignty in the Arctic." The NTI Board ratified a resolution in 2016 calling on the Government of Canada and Nunavut to strengthen monitoring and management efforts of marine shipping traffic in Nunavut waters. They directed the NTI and Regional Inuit Associations to pilot an Inuit-led monitoring system.
Starting in 2017, Inuit marine monitors began actively collecting data on vessels, in particular those not required to have an Automated Identification System or AIS. This means vessels under 300 tons, such as yachts carrying less than 12 passengers and pleasure crafts that are smaller than the larger cruise ships. Marine monitors document vessel characteristics and activities, as well as information related to local concerns such as observations about the impact of small vessels transiting near community harvesting areas.
Hunter and Trapper Organizations/Associations (HTO/A's ) and community representatives help to identify increased traffic areas and prioritize where the marine monitors work and where to locate the AIS equipment. One of the goals of the program is to build a network of experienced hunters who are hired as Marine Monitors during the shipping season to record observations in Nunavut's coastal areas. Canadian-made AIS equipment will track and identify vessels in areas of concern, and also provide live weather information about these areas to harvesters in the community.
The image below demonstrates ship tracks and AIS data for only 3 months of the shipping season near Clyde River. Vessels within a vicinity of about 150 – 200 km that passed by or transited near are documented and reported back to the community.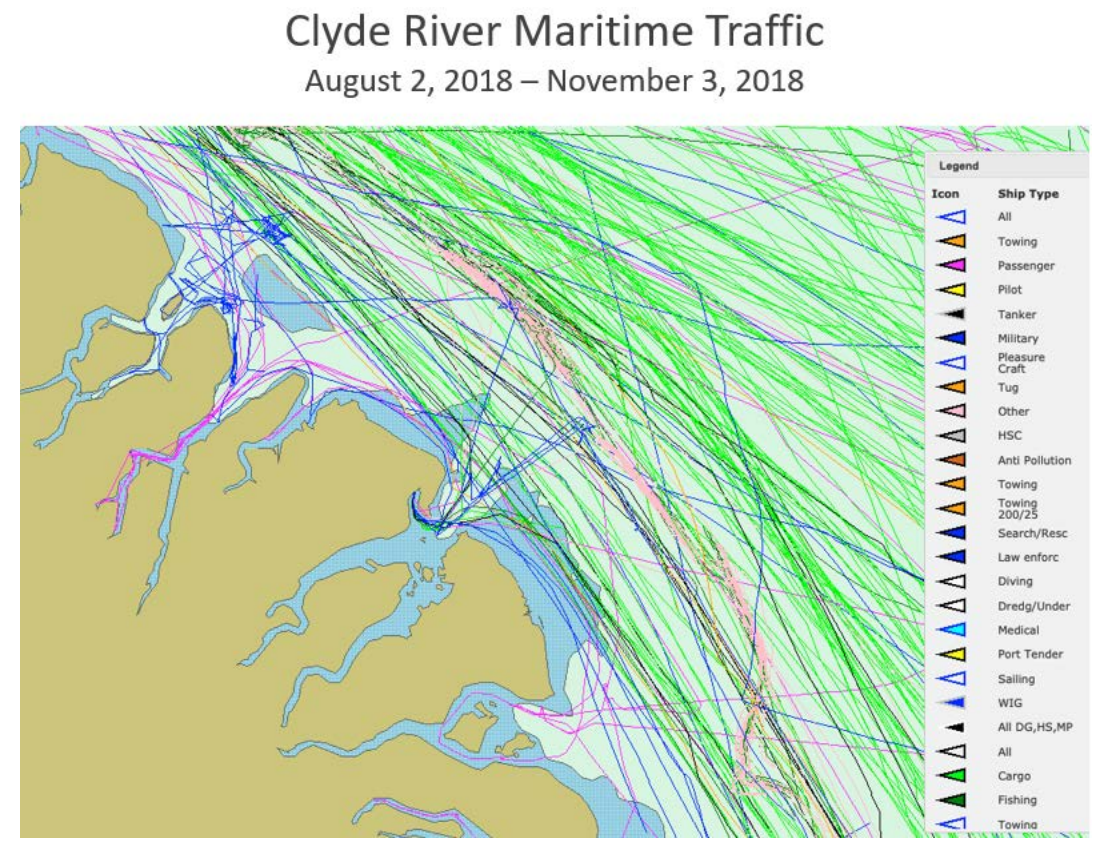 AIS infrastructure is located both In-town (located in communities with a good line of sight using regular power outlets and an antenna on top of buildings) and Off-grid (terrestrial sites which rely on solar panels, batteries, wind turbine, and a mini weather station that records wind speed, wind direction, barometric pressure, etc.). These will be installed in either marine protected areas, cultural significant sites, harvesting areas, or areas of interest recommended by the Hunter and Trapper Organizations/Associations and tested throughout the 2019/2020 season.
The AIS program is also on the development phase of a low-bandwidth website that will be available to the communities on the NTI website in 2020. The aim is to improve the design and functionality of these AIS systems in partnership with the Marine Institute of Ocean Technology. The North is probably the best climate to test these systems for cold weather and other extreme elements.
This year the program will expand to 6 communities (Cambridge Bay, Clyde River, Qikiqtarjuaq, Coral Harbour, Resolute, and Chesterfield Inlet), with 12 marine monitor captains and 12 helpers. The program also seeks opportunities for young men and women to support the roles and responsibilities of the monitor captains. The Nunavut Harvester Support Program, an Inuit non profit organization, is supporting the construction of a network of cabins that will house the marine monitors as they conduct monitoring and research, while providing a place for Elders and youth to engage in cultural practices.
"Our long-term vision will be to evolve the role of the Inuit marine monitors to include other duties such as emergency response, community-based hydrography, aids for navigation, and scientific monitoring," says Daniel.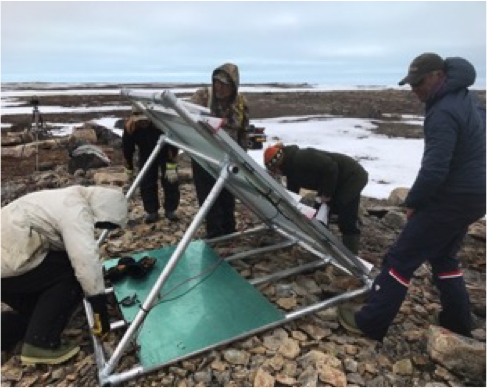 The Marine Monitor program will organize and utilize Inuit knowledge and local capacity, and provide NTI and other Inuit organizations with the data they need to inform their role in shipping management and Marine Protected Area planning.