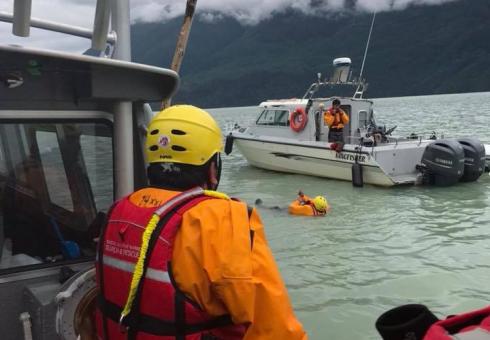 "I've got buy-in from my crew and they're all focused on following protocol and being safe. It comes down to good pre- and post-trip procedures and making sure that everyone follows them."  Ernie Tallio, Nuxalk Guardian Watchman Manager
In late May, three kayakers were swept into the still-frigid ocean near Bella Coola. Thanks to a quick response from the Nuxalk Coastal Guardian Watchmen and a local tour operator, their lives were saved. "It all turned out for the best, but it could have been much worse," says Ernie Tallio, who manages the Nuxalk Coastal Guardian Watchmen team that was the first to respond. "And even though it was a positive outcome, it was still very traumatic for the crew."
It's that kind of event that has prompted Tallio and other Coastal Guardian Watchmen managers to put a premium on safety procedures—not just to keep their crew members safe, but also to increase their effectiveness as first responders. Leaders from all of the Coastal First Nations stewardship offices met earlier this year with Raven Rescue, one of Canada's largest safety companies, to coordinate and brainstorm on how to create an effective safety program that meets industry standards, while considering the unique needs of each Nation.
Training sessions were organized with Nuxalk and Wuikinuxv First Nations on identifying and mitigating workplace hazards, as well as safe boat operation and wilderness first aid. The latter is geared to those who are more than one hour away from primary care, such as ambulances or hospitals, and need to focus on procedures that extend lives for as long as possible in these conditions.
Lena Collins, a Wuikinuxv Guardian, found the wilderness first aid extremely helpful because it was hands-on and they were taken through actual scenarios. "One thing that really became clear through the training is that you're the one who is in control in any given situation, so it's important to stay calm and think through actions," says Collins.
Ernie Tallio is quick to point out that in most cases, safety is about prevention, not heroic rescues. Tallio says the training was a great reminder for his team about why it's important to never get complacent when it comes to creating and following safety procedures.
Story submitted by Fraser Los, Communications Coordinator – Coastal Stewardship Network. Read the original article here.